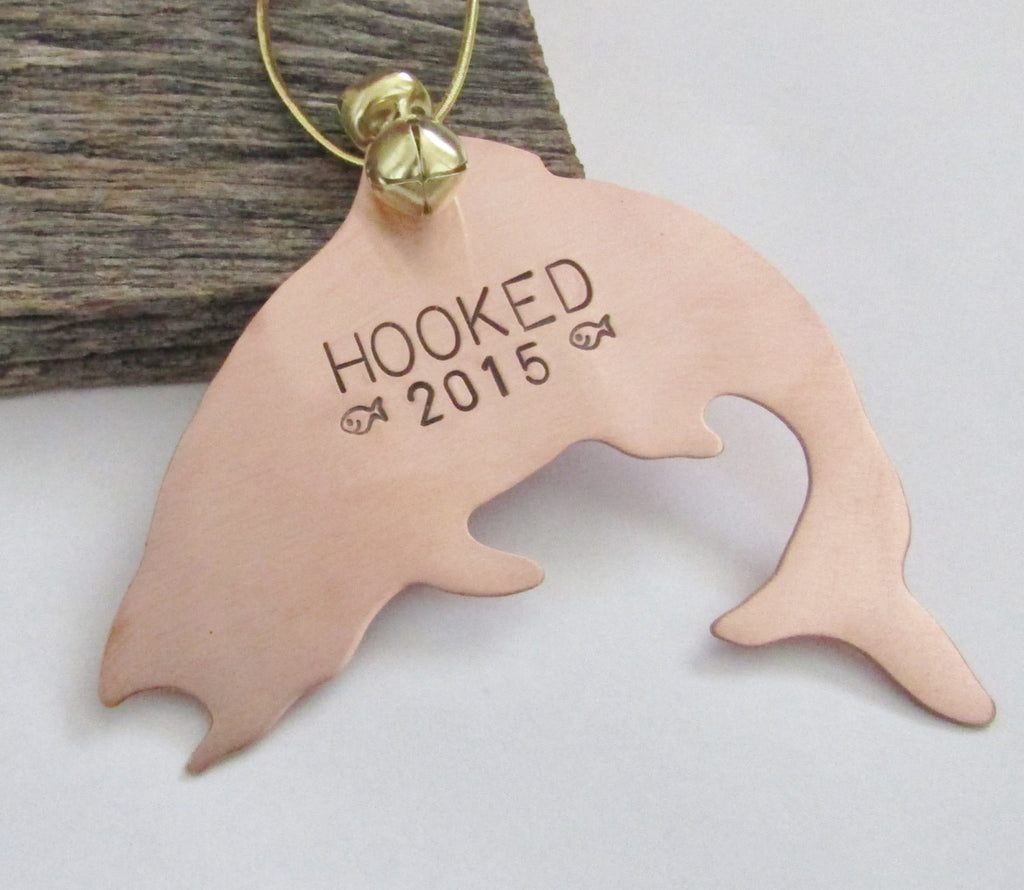 Valentine's Day Gift for Boyfriend Fishing Valentine for Girlfriend Gift for Husband First Valentines Day Gift Personalized Hooked on You
---
Description
Valentine's Day Gift for Boyfriend / Fishing / Valentine for Girlfriend / Gift for Husband / First Valentine's Day Gift / Personalized / Hooked on You
"HOOKED and YEAR" - Personalized ornament for the fisherman and his best catch! Do you have a new boyfriend, girlfriend, husband or wife this year? They deserve an ornament letting them know that you are HOOKED! Add the current year, a year of your choice, date, initials or name. Just add any customization requests in the notes box at checkout.
We designed this custom ornament ourselves, so be assured you'll see no others like it - making it a truly original gift! They look great hanging as a tree ornament or over a door knob. Perfect handstamped gift to display for this year and years to come.
The item is pictured in copper with gold ribbon and two gold bells. It also can be purchased in nickel or brass. You may choose your ribbon color and bell color at checkout. All ornaments are made using high quality, heavy gauge metal and will last a lifetime with care and re-polishing. They are personalized with hand stamping. Each letter is carefully hammered into the metal - one by one. The spacing and depth of the letters can vary - since this is not done by a machine. These differences make every item completely one of a kind.
Ornament measures approximately 4.25" Wide & 4.25" Tall
Any other questions - just ask!!
WHAT MAKES YOUR PRODUCTS SO AWESOME? Oh, where do we start!
We offer personalized fishing lures, custom painted crankbaits, wallet keepsakes, metal key chains, custom gun bullet gifts, motocross gifts, hunting and fishing decor, Christmas ornaments, as well as many other hand stamped ideas that are great for YOUR special occasion. C & T Custom Lures uses only high quality metals, such as brass, stainless steel, copper and bronze. Our dedication to using only quality materials sets us apart from others - the result is a durable product that will last a lifetime (and is known to bring a tear to Grandpa's eye!!). We can customize to your requests and our unique gifts work great for weddings, birthdays, anniversaries, graduations, Valentine's Day, Mother's Day, Father's Day and even the loss of loved ones and pets. We work hard to add new products often in an attempt to make C & T your one-stop shop for gift giving all year long.
HOW DO I PERSONALIZE MY GIFT? We know you like to add special sayings!
Most of our shop consists of items that can be customized to make it extra special! Personalizing is simple....Just type your message wishes in the notes box at checkout. The notes box will appear on the payment screen during the checkout process. If we have any questions, we will contact you by e-mail about your message. If you don't hear from us, that means we understand your request and will complete it as instructed.
HAVE QUESTIONS? It's ok....just ask!
Please ask any questions prior to purchase being made. We'd prefer to give you an exact answer in a timely manner rather than seeing it left in the notes at checkout. Due to the amount of orders we receive each day, we do not review order notes until it is time to create your order. We work with a heavy workload throughout the year and it is always easiest to have just the message requests left in the notes box at checkout so our production continues as smooth as possible without delays with e-mails back and forth to answer questions.
WHEN WILL I RECEIVE MY GIFT? We know it's hard to wait!
All of our items are HANDMADE TO ORDER. Each takes time to create and we know you will love the finished products! Our current production time on most items is no more than 3-7 days (depending on the item purchased). This is the time that it takes to create the item - not the time frame that you will receive it by. It's possible your order will be done sooner than this, but we simply can not make any promises due to fluctuating daily orders. We continue to work as quickly and efficiently as possible on each and every order placed and are never late in mailing within our posted timeframes. I promise you we work tirelessly throughout the year.
WHAT SHIPPING OPTIONS ARE AVAILABLE? Do you ship internationally?
We absolutely ship WORLDWIDE! All packages in the US and international are shipped with the United States Postal Service. We offer First Class mail, which is typically a 2-5 BUSINESS day shipping time frame in the US and a 1-4 weeks delivery around the world (due to customs). We do not promise this delivery time, but simply re-state what is posted as the USPS standard guidelines.
---
Share this Product
---
More from this collection